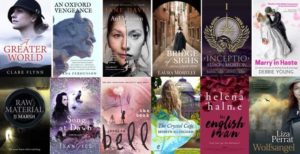 I'm delighted to be part of an exciting promotion running for a limited time – 24th-28th February, with eleven fellow writers. You can download any or all of the following books, absolutely free!
To browns through the twelve free reads, visit the joint landing page, hosted by novelist Helen Halme. There's a great range, from historical to thriller, to choose from.
If any take your fancy, just click on the cover and you'll be taken to the page where you can download the book, in exchange for subscribing to the writer's mailing list. (This offer is only available if you haven't already signed up to my Fictionfire Press list)
Here is a beautiful video trailer which shows you more about each book.
The twelve books are:
An Unknown Woman – Jane Davis
Wolfsangel – Liza Perrat
The Book – Jessica Bell
A Greater World – Clare Flynn
The Crystal Cage – Merryn Allingham
Inceptio – Alison Morton
Bridge of Sighs – Laura Morelli
Raw Material – JJ Marsh
Song at Dawn – Jean Gill
The Englishman – Helena Halme
Marry in Haste – Debbie Young
Plus my own An Oxford Vengeance.
I hope you'll find something to enjoy in this list – and we would all welcome and appreciate it if you were to shares and review!
Happy reading!