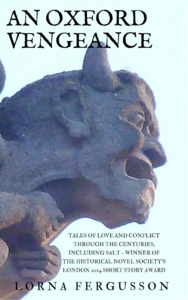 Note: This collection is now available again.
This weekend I'm going to be appearing at the Historical Novel Society's conference in Oxford. I've also been on the organising committee and I'm one of the judges of this year's short story competition. All the more reason, then, to publish An Oxford Vengeance right now, as not only is the title story set in Oxford in the 14th century – it explores what might have happened in the wake of the events of Chaucer's Miller's Tale – but I've included 'Salt', which won the Historical Novel Society's story award at the conference in London in 2014. 'Salt' is set at the start of the First World War and was triggered by my grandmother telling me, many years ago, that she was in Great Yarmouth at the time and remembered the soldiers going off to war.
I've also included an expanded version of 'Reputation', set in late 19th century France, which was a finalist in the HNS story award in 2012. To round off the collection, I've included a short extract from my novel The Chase, this time set in France during the Hundred Years' War.
I've enjoyed producing this little collection so much I hope to write more stories set in Oxford during its long and colourful history.