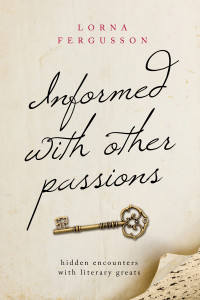 Last month I discovered that a film about Charles Dickens' affair with Ellen Ternan, known as the 'invisible woman', is due for release on February 7th. I had a sudden rush of blood to the head, for I had written a story on that very subject some years back, a story I'd never published. Surely it would be a good idea to get my story out there before the film appears?
More blood to the head – why not issue the story as part of a collection of short stories, with a common link? Why not write about crucial events in the lives of famous writers, but from unusual or unexpected angles?
Brain now in overdrive: six stories are mapped out. Internet and library research begins. A gorgeous cover is commissioned.
Then events in real life decide to make trouble – so much so that progress temporarily halts. And I have no intention of compromising these stories by bringing them out prematurely, just to beat the notional February 7th deadline.
In the meantime, here's a tiny taster:
I was suddenly sure that he would not live long. His incandescence was self-consuming, like a train of gunpowder.
And of a sudden, at that moment of revelation, we were indeed close to death, in a shriek of whistles and a coarse incompetent grinding of brakes.
To hear more about Informed with other Passions and other publications, please sign up for the Fictionfire Press mailing list in the box to the right.